Saraswat Awakening Divine, Inspirational pravachana by HH Samyamindra Tirtha Swamiji, Mathadipati, Shri Kashimath Samsthan, Varanasi
Article by🖋️ Chaitreya Gopal Pai Mani
Place: Kashmir – the ancestral home of Saraswats
Below are the excerpts from same :
We invoke the blessings of merciful God and our Swamiji and bless you all who have assembled here.
Kashmir – A Saraswat land
Today we are in the place by grace of God which is ancestral land to all saraswats, we saraswats who today have settled in places of South coast like Goa,Mangalore Kerala etc were once belonging to this place called Jammu & Kashmir. We all are descendants of Saraswat muni, we are also called as descendants of Sage Dadichi. This place has special mention in puranas and Mahabharata.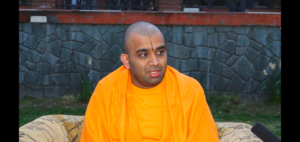 Our yatra to Kashmir – A long cherished dream come true
We never ever thought we will come to Kashmir so soon and that too stay here. Yes for umpteen number of reasons our camp was not disclosed and kept secret. Our relationship with Kashmir is not new, we started nurturing the seed since 2013 when we met a Kashmiri pandit called Arun Kumar at New Delhi (through our very own member of sishya vrunda Dinesh Kamath). He runs Sanskrit Bharat shibir here. He asked us " Swamiji, we Pandits are same as you saraswats and blood that flows in you is same as ours, please do something for ancestral land, though we are putting great efforts when it comes from swamiji the strength we get to our movement is at different level, If we talk about DNA in today's language it must be same between GSB Ancestors and Pandits. We don't disclose about our past with pandits because time has not yet come but whenever pandits meet us and come to know we are saraswats the level of happiness in their face is very high as they feel we are their Swamiji too as till date they had no strong face to lead them.
It saddens us to say that during our poorvashrama or people who are assembled here were never taught of Article 370 in school, forget us even famous lawyers did not knew finer details of provision. We came to know that under this provision no one can purchase land at J&K not even President of India only thing is all us can get something in lease and when he (Arun Kumar) asked us to do something, we only smiled and kept quiet. Now came a new hope and our happiness had no limits the Government of India made a bold decision to remove Article 370 and make J&K the integral part of country like any other state.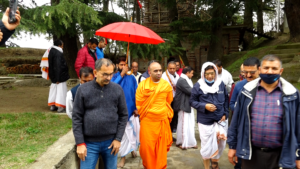 Saraswat Bhavan-Sudhindra Swamiji-New Delhi
Whenever we met Dinesh Kamath our first question was how is the work of Sanskrat Bharat Shibir going on in Jammu and Kashmir because we never knew until our sanyasashrama that such work takes place here. Our reverred guru Shrimad Sudhindra Tirtha Swamiji also had conducted World Saraswat Federation event so that there can be confluence of Saraswats at New Delhi, today the samaj mandir at Delhi is not known as Krishna mandir or by any other name it's called as Saraswat Sanskriti Bhavan reason is our Swamiji wanted to make a place for confluence of all Saraswats including Pandits of Kashmir at heart of our country's capital New Delhi. This was one the unifying decision by our great swamiji.
Our Kashmir Camp – a new dawn
As we said this Arun Kumar had told about our math to a Kashmiri pandit he wanted us to visit Kashmir and many had asked us to visit this land but situation was not good. We cannot disclose name of person for safety reasons and the same person today has ensured our safe stay at Kashmir. He has ensured that Swamiji of Gowda Saraswat Samaj comes to Saraswat land and acts as an unifying bridge between Saraswat Kashmir pandits and GSB samaj. We met a person at Delhi recently to discuss on this camp his name is Avatara Krishna we told him that we GSB are saraswats of Kashmir and it runs in our blood and no one needs to tell this specifically to us, he just nodded his head then. This person Avatara Krishna met us in Jammu this time and his feeling towards us was totally different this time he bought us a book on saraswats written by Kashinath Pandit and when we glanced whatever we told him on his Delhi visit the same is written. The book talks about writer M V Kamath and quotes his speech where he says "he is proud of being Saraswat" in a pandit Sammelan.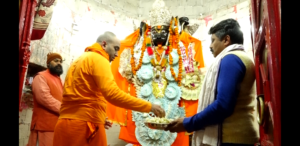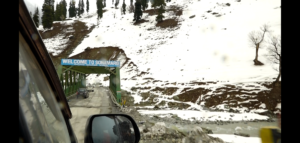 The toll of difficulties taken by our brothers Kashmiri Pandits is worst, they are facing most unbelievable and unexpected challenges, they live a dangerous life and fight every second to protect Dharma and on the other hand we GSBs are living peacefully at our homes. Today you who have assembled here, you have come for pleasure trip, have you all thought there are so many temple existing in Kashmir ?? Do you know how difficult it's to run a temple and survive ? Keep aside these things it's even difficult to travel, roam around the town, there is also fear of natural disaster and to add to this there is trouble from non Hindu religious outfits.
Let us narrate you one small incident faced by Kashmiri pandit during exodus a man was butchered in front of his wife and biryani was cooked out of his flesh and wife was made to eat the same, we don't know how to narrate this or visualize the inhuman experience. Thanks to our Indian Army n CRPF such incidents have come down.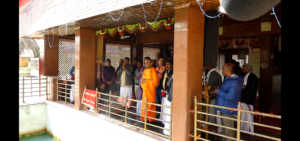 Temples of Kashmir- names of place-real meaning – you must know
1. We went to a Hanuman Temple in Lalbaug an area now dominated by members of other community infamous for stone pelting. CRPF has made bunker type structure and one has to get inside and go to the temple once we went in we saw how grand the temple is. Remember there are unwanted troubles daily from people of minority community there but still temple stands due to faith of pandits and efforts of CRPF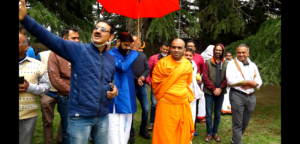 2. We moved ahead after this visit to Radhakrishna Temple this temple is closed and the mukuta or crown of temple is missing. The temple is used by local people to graze the sheep and goats. Such is the sad situation of our dharma.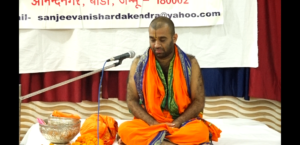 3. We proceeded to magnificent Ksheer Bhavani Temple which we can say is magnificent and well maintained but to our surprise we spoke to person misunderstanding him to be a pandit and he turned out to be Muslim, we came to know out of 16 trustees, 13 are Muslims and pooja is done by local Kashmiri Pandit. The Muslim trustee whom we mistook as pandit told us here all are same only pooja is done by Pandit.
4. We then proceeded to Tripura Sundari temple which is completely destroyed and today the Kashmiri Pandits have taken the pledge to renovate this temple by putting a lot of risk to their lives. Here a sarpanch kept his security outside and took us inside temple with utmost care. Like in Prayag where there is protected place where deity is worshipped on root of tree similarly the goddess is worshipped here on a tree which is so powerful that person who came to destroy the tree met with his death in 90s, such is the temple we will come to know it's power once we come near it's vicinty.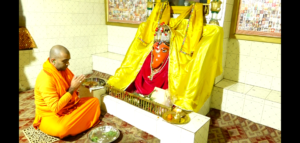 5. The story of Ganapathiyar temple thrilled us because CRPF has built web of protection around it and when a person asked CRPF if devotees will be stoned their reply was we are Anchors to you we will take the hit and you stand on our back not a scar shall come. Such is valour of our jawans and that's how our temple is protected
There are many other temples Sambha Narasimha Temple, Jambavant Guha at Jammu, Vaishno Devi and many many more whose name we can't memorize. If we need to call the trip as Saraswath Darshan then people from our Samaj need to visit such places make it popular and help our Pandit brothers and sisters to live a life of Dharma. We must be educated about some places here for example what is today called as Sonmarg is Swarna marg it's an entry point to Amarnath Yatra, 12kms before battal. Gulmarg is nothing but Gowrimarg. We have been taught Himalayas as tourist spot which is a big jolt on jnana or spiritual knowledge. We must always consider Himalaya as Devabhoomi it's Brahmavarta where sages did and are still doing deepest of penance. We went to Avantipura where a tourist guide told us it's built by King Avanti and not pandavas it struck our mind who is he to question our belief since the time is not ripe to answer him back and we are sure in future we will give him back and say Avantipura is built by Pandavas only.
Today it's a sorry state they have changed the name of Anantnag to Awanpora and also a new name now called Islamabad. Let us educate you all few facts Kalhana's epic Rajatarangini has great insights on Kashmir, the real name of Srinagar is Pravara Nama Nagari, there is a purana dedicated to Kashmir whose name is Neelamata Purana , The 5 room houses of our Hindu brothers are acquired, there are misguiding people who act as guide in these spiritually important places. They call Martand as Mattan which has Martand Suryanarayan Temple a temple dedicated to Sun God. Seeing such people we decided not to pay him a penny instead pay it to the temples and people who run it by risking their lives to protect the Dharma.
We hereby ask you to make future Kashmir trips not only tourist but also a Saraswat Darshan in real sense. We must go to temples here and motivate other Hindus to come, visit and make such religious spot popular.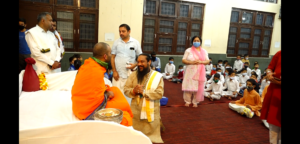 With these things we conclude our pravachan with utmost happiness that people from our samaj have assembled here in ancestral land and have spent few minutes listening to the glory of this land where our forefathers had ripened rich boons from penance and prayers. Take this glory back to your respective hometown encourage others to visit this land and make it Saraswat Darshan in true sense, also we remember our God Lord Vedavyasa is one who gives Jnana and Abhaya, one who brightens this land, to bless this land once we stepped here the first thing we did is Bhumi poojan in order to knock off troubles this holy land is facing, we also have decided to make Havana in Kashmir in order to protect it from wicked eyes of Melchas who have always thought of destroying our dharma. Let god bless you all and let him Vyasa Raghupati Narasimha shower his choicest blessings on you as well as this nation Bharatha.
***********
The above is the transcribe from pravachana of Shrimad Samyamindra Tirtha Swamiji at holy land of Kashmir. The mistakes in it are mine and all right things belong to our gracious Swamiji and to their antaryami Vyasa Raghupati Narasimha.
My special thanks to Youth of GSB team and Arbet Madhav Kamath maam for choosing me to transcribe this awakening, motivating divine pravachana of HH Samyamindra Tirtha Swamiji on holy land of Kashmir.