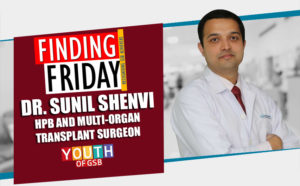 When it comes to liver transplants and gastrointestinal care, Dr. Sunil Shenvi is undoubtedly a name to reckon. His superior skills in Gastro-intestinal surgery helps patients with digestive health problems find treatment options that improve their quality of life. Dr. Shenvi mainly focuses on hepato-pancreaticobiliary surgery and multiorgan Transplantation, a sub-specialty of gastrointestinal surgery that focuses on the liver, pancreas and the biliary tract. Using advanced therapies and research, he offers patients clinical expertise that is rooted in compassionate care for every patient.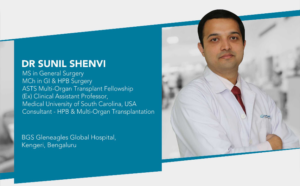 Working at BGS Gleneagles Global hospital as a HPB and Multi-organ Transplant Surgeon, Dr. Shenvi's expertise has given countless patients with end-stage liver disease a new lease of life. He says, "As surgeons, we often witness life hang in the balance until a liver is made available. Thereafter, nothing but the most intricate and well-coordinated teamwork can save a patient's life. I am fortunate to be able to play a role in making a child look forward to school or a father look forward to witnessing his daughter's wedding — all because a liver changed their lives."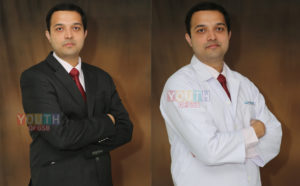 Post completion of his M.S. in General Surgery, Dr. Shenvi went on to pursue his M.Ch. in Gastrointestinal and HPB Surgery from the Postgraduate Institute of Medical Education and Research in Chandigarh. He then went on to further hone his skills as an ASTS fellow and Clinical Assistant Professor (Transplant Surgery) at the Medical University of South Carolina, Charleston. His past positions include those at prestigious hospitals such as KLES Dr. Prabhakar Kore Hospital and MRC, Karnataka as well as Ruby Hall Clinic, Pune.
Very Famous DJ of GSB Community, Click here to know his Bollywood Hits https://urlzs.com/VnTtb
Dr. Sunil Shenvi is dedicated to medical research to advance treatment options and patient education. He is also a frequent speaker and lecturer at national and international meetings on issues in the liver and biliary diseases and has addressed medical groups at a number of national and international conferences. Known authority in Liver, Pancreas and biliary diseases, and pre-and post-liver transplant management, Dr. Shenvi has to his credit countless medical papers and publications.
When not in the operating theatre or educating his patients, Dr. Shenvi is an avid lover of the performing arts, literary works, listening to classical music and exploring new places. A keen orator, his witty attitude has helped him bag a number of accolades in debates and even theatre performances