Chandrika Kamath is a textile designer and decorator with over twenty-five years of experience in the arts and craft industry and teaching respectively.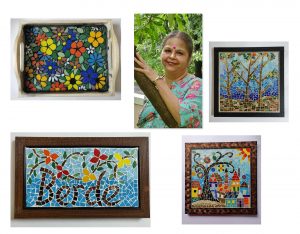 • EDUCATION:

1. Completed the "Women entrepreneur development programme", a tailor-made MBA programme conducted by ISB Hyderabad, sponsored by Goldman Sachs in 2013.

2. Completed a certificate course in "Interior Designing and Decoration" from Indo-American Society in 1992.

3. Diploma in the "Textile Designing" course specialization in Screen printing and Dyeing from 'Sophia Polytechnic' in 1984 and stood 4th in the Merit List.

INTERNATIONAL TRAINING WORKSHOPS:

Imparted personal training in creative arts to foreign nationals hailing from different countries:1. Conducted workshops exclusively for Art Teachers in Designing,
Creativity, fabric painting, glass painting, sticker making, M-seal Craft
at 10 different venues across the length and breadth of Sri Lanka in
October 2002 and 2007.2. Conducted similar workshops in Bangladesh in June 2005, at Dubai in Nov 2006, at Jakarta, Indonesia in Nov.2007 and Cairo, Egypt in May 2008. I have also had a Show in Art and Craft on Egyptian Television.3. Conducted Teachers training courses internationally as per list below:1. SriLanka – from 03/10/2002 to 24/10/2002
2. Bangla Desh – from 24/06/2005 to 01/07/2005
3. Dubai – from 06/11/2006 to 17/11/2006
4. SriLanka – from 31/01/2007 to 07/02/2007
5. Indonesia – from 26/05/2008 to 08/12/2007
6. Egypt – from 06/05/2008 to 12/05/2008
7. Bangladesh – from 09/12/2009 to 18/12/2009

COACHING:

• Taught "Textile Designing" at 'Rachna School of Textile Designing' from 1985 to 1988.

• Taught Textile Designing and Printing at 'Sophia Polytechnic' from 1987 to 1988.

• Conducted a Diploma course in 'Textile Designing' at 'Maniben Nanavati Women's Career Development Centre', Vile Parle, from 1991 to 2004.

• Taught Textile related subjects in the 'Fashion Designing' course at SNDT's Mahila College, Malad, from 2001 to 2015.

• Taught "Art and Painting" yearly course at SNDT's Maniben Nanavati College, Vile-Parle, and at SNDT's Mahila College, Malad.

HIGHLIGHT OF COACHING:

• The age group of students taking part in the various courses ranges between 15 years to 60 years.

• Children, Parents, art enthusiasts, housewives participated in these courses.

• The goal of organizing these courses has been to make art more accessible and to teach new skills and techniques.

• Some of our students are constantly in touch and keep each other informed about their progress in the field of art and craft, sharing tips, e-coaching is also fast growing.

• Many of them have started their own little businesses.

PROFESSIONAL ACHIEVEMENTS:

o Won the "Best business plan award at ISB Goldman Sachs" in 2013.

o Worked as a freelancer for various boutiques on theme-based Fashion Shows. Also worked on contract for reputed shops like 'Benzer', Litolier', 'Kalaniketan', 'Palav', etc. for their wholesale/retail marketing of hand-painted sarees/dresses.

o Undertaken Interior Decoration jobs like 'Theme Paintings' on walls, wardrobes, etc. for residential clients & reputed organizations like 'Lilavati', 'Fountain Head', 'Crossword', etc.

o Invited for a Talk-show by A.I.R. FM, on the subject of 'Textile Designing' and 'Designing Creativity'.

o Associated with 'Pidilite' Industries in:-
– Product launching and various other projects.
– Demonstrations and Workshops in Art and Craft in various Schools, colleges.
– 'Teachers Training' courses at Mumbai, as well as all over India and abroad.
– 'Art & Craft' Syllabus planning for different modules for Schools and colleges.
– Written a book on 'Basic Fabric Painting Techniques'
– Contributing articles and write-ups for 'Fevi-Art' magazine on a regular basis.
– Developing Art & Craft related books.

DEMONSTRATIONS AND WORKSHOPS:

• Conducting regular workshops for Deaf and Mute students of the "Helen Keller" Institute.
• Conducting regular workshops for BMC School Teachers on creating effective teaching aids through Art and Craft.
• Conducting regular Workshops/demonstrations on Fashion and Interior related subjects such as Surface Designing, Silk painting, Fabric painting, Accessories designing and Making, Glass painting, Ceramic painting for students and Faculty of various colleges like Nirmala Niketan, Sasmira, SNDT and NIFD.
• Give regular demonstrative programme in various 'Art and Craft' topics on Television channels such as DD, Zee Marathi, Me Marathi, E Marathi, SAAM Marathi.
• Conducted 'Celebrity' workshops for TV actors and Fashion Designers at Mumbai and Delhi.
• Painted exclusive sarees for the 'Cancer Patients Association' Charity Fashion show which was designed by Shaina N.C. and Directed by Hemant Trivedi.
• Conduct numerous workshops during Ganapati and Diwali festivals every year.
• Participated in Kala Ghoda Festival in 2010 and 2011.